Zucchini Spaghetti Recipe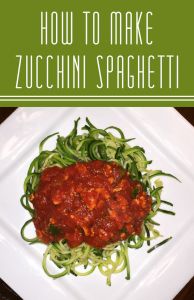 This week we tried a new recipe using our Spiralizer vegetable cutter and made Zucchini Spaghetti. I've made veggie lasagna before, so I knew that zucchini tastes pretty good with tomato sauce… but I was pleasantly surprised to find that I really didn't miss real pasta using zucchini instead of spaghetti noodles. And my picky kiddos ate it without any complaints!
The vegetable cutter we have is called the Spiralizer® Tri-Blade Vegetable Spiral Slicer, which we bought on Amazon late last year. It comes with several different types of blades, but up until this point the only thing I've made with it was curly fries!
I made a large batch of this so that we would have some leftovers. We ended up not having leftover zucchini, but we did have leftover meat sauce, so we were still able to get a second meal out of it. When you buy the zucchini, I would suggested getting the straightest ones possible because they will be easier to put through your Spiralizer.
Before I made this I wasn't sure how to cook the zucchini for spaghetti because I didn't know if I should boil it like regular spaghetti or if it should be sautéed in a pan. Most of the tutorials I watched showed people sautéing the zucchini, but that seems very un-spaghetti-like to me… so I boiled it like I normally would, but I think the key is to not cook it as long as you would cook pasta. Here's a basic run down of how I made it.
Ingredients
2 lbs of ground turkey breast
4 jars of spaghetti sauce
1 onion
fresh basil leaves
6 large zucchini
olive oil
salt
parmesan cheese
Start by browning the ground turkey in a large pot with about a tablespoon of olive oil and the onion (chopped). Once the meat is thoroughly cooked, add the spaghetti sauce and basil leaves (chopped). Simmer on low heat.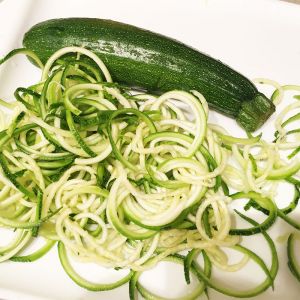 While you're cooking the meat, onion, and sauce you can go ahead and start preparing your zucchini for cooking. You'll also want to start boiling water in a second pot with a tablespoon of oil and some salt. (Salt the water just as you would with normal pasta.)
Wash the zucchini and cut off the top so you have a flat surface to start on your Spiralizer. You'll need to line up the center on the circular metal piece coming out of the cutting side, which is where it will cut out the core (seed part) of your zucchini. When you're finished cutting it you can either discard the core or chop it up and throw it into your pot of sauce.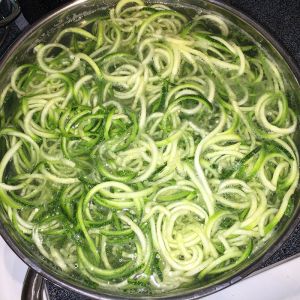 Once you've finished cutting all of your zucchini, add it to the pot of boiling water. You don't need to cook them as long as regular pasta because you don't want it to be too mushy. I think I cooked mine for about 5-6 minutes. Drain the water out as you would normally when cooking pasta (with a colander in the sink) and serve.
I will mention that some of the "noodles" come out of the Spiralizer really long, so if you've got kids you might need to cut them because the pieces are even longer than normal spaghetti. Top with parmesan cheese and enjoy!
{ Some links in this post are affiliate links meaning, at no additional cost to you, I may get a commission if you make a purchase. Thanks for your support in this way! }