How to Self-Publish a Children's Book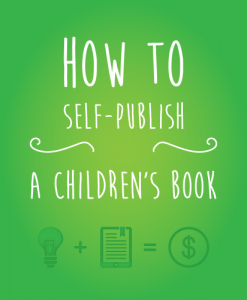 Amazon announced last week that they're launching a new method of self-publishing called the Kindle Kids' Book Creator (KKBC), making it easier for children's book authors to include illustrations and dynamic elements in their self-published books. (Amazon's official announcement is here.)
Personally, I think self-publishing is so empowering for people because it totally skips the step of having to convince a publisher that a story is worthwhile. Publishers will only spend time and money on a story that they think will sell a ton of books, often weeding out the stories and thoughts of brilliant people who just couldn't catch a break. Have I mentioned that I'm a huge fan of self-publishing? Independent authorship didn't always have the cool hipster quality that it does now, and I think it's super inspiring!
Anyway, back to the Kindle Kids' Book Creator… it's actually an app that you'll need to download and install on your desktop computer, available for Mac or PC. There are clearly written instructions on how to import images and how to create pop-ups. So you would pretty much need to have your cover artwork ready to go, along with any illustrations that you want to use inside the book. You can either include the text for your book in each page design (along with the illustrations) or you can make your own text boxes to type out your story in the application.
The text pop-up feature lets your readers double-tap text on the page to display a magnified view of the text. Text pop-ups make your book easier to read and more engaging. The KKBC app makes it easy to create these.
Once you've imported all of your pages it's important to preview your book on several devices before you publish it, just in case you need to make any adjustments. You'll be able to create a book preview to view in the Kindle Previewer application, where you can scroll through your book and test out your text pop-ups. You can even switch to test different devices by using the "Devices" menu or the tabs along the top of the Kindle Previewer window. If you need to make changes, just switch back to the KKBC app.
Once you've made your final changes and you're ready to publish, click on "Save for Publishing" from the "File" menu and save it to your hard drive. Then return to the Kindle Direct Publishing website to sing in and follow the steps to upload your book and go through the steps to set pricing and other publication details.
Easy-peasy-rice-and-cheesy!
{ Some links in this post are affiliate links meaning, at no additional cost to you, I may get a commission if you make a purchase. Thanks for your support in this way! }