Cuban Style Beef Stew Recipe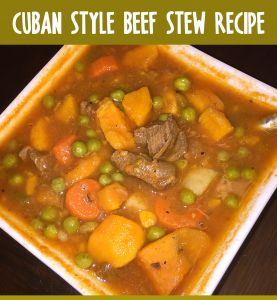 This recipe has been in my family for many years. My mother and grandmother used to make it when I was a kid, so it's definitely comfort food, but it's hearty and healthy while not chock full o' sinful calories. This stew recipe is supposedly Cuban style because the broth is tomato based instead of beef broth based. I've added kale to the recipe, not because I'm obsessed with it (see my other kale recipes here), but because my kids will eat it like it's going out of style, so why not cram it full of nutrients?
For awhile I stopped adding white potatoes to this and added more sweet potatoes instead (because white potatoes are less nutrient dense than sweet), but I've decided that I like to add at least one white potato because it thickens the broth a little bit. I avoid gluten whenever possible, so if I can add a white potato and end up with a thicker broth without adding flour then I'm a happy girl.
I normally don't measure ingredients when I make this recipe because there's no exact science to it. It can be slightly different every time and still turn out super delicious. I'm sure you've probably already started skimming the list of ingredients and noticed that this recipe calls for A LOT of ketchup. Now, before you go all Honey-Boo-Boo on me… can you just trust me and try it before you pass judgement?
Let's think about ketchup for a minute. Sure, you put it on hotdogs and Mama June puts in her 'sketty, but there's a lot of good seasoning in there that you could replicate starting from tomato paste — but ketchup is easy and when you're headed home at 5:00 with a car full of hungry kids you'll be glad I advised you to skip the fancy bull shit.
Ingredients
1-2 lbs of stew meat (beef or chicken)
3-4 sweet potatoes
1-2 white potatoes
1 onion
1 green pepper
4-5 large carrots
1 bag of frozen peas
chopped / minced kale (optional)
1 Tbsp olive oil
1-2 cups of ketchup
salt & pepper
In a large pot, brown your meat in about a tablespoon of olive oil. While the meat is cooking, peel and chop the onion and add it to the pot (even if the meat hasn't finished browning). Once the meat is brown on the outside, add enough water to cover the meat and onions and let that simmer while you're peeling and chopping the vegetables.
Add the ketchup to the pot – it doesn't have to be an exact measurement, just give it several big squirts and be generous. Once you're done peeling and chopping the vegetables, add all of them to the pot except for the kale and peas. Add more water if needed, enough so that everything is submerged.
Add salt and pepper to taste. You don't need to add a ton of salt because there's already some in the ketchup, but I typically add some. I also like to add a lot of black pepper depending on how large of a batch I'm making.
Let everything simmer until all of the vegetables are completely cooked through. Your cooking time will vary depending on the size of your chopped veggies. This recipe is pretty forgiving. You can chop your vegetables into smaller pieces if you need it to cook faster or turn the heat up if you can stay close by to stir the pot every once in awhile.
About 10 minutes before serving, add your frozen peas and minced kale leaves. The stew is really hot, so the peas and kale will cook very quickly. They also help cool the stew just slightly, which allows you to get it on the table to your hungry kiddos without it being completely scalding.
As far as cooking time, start to finish – I think this takes roughly about an hour to 1.5 hours. This recipe can definitely be made in a crockpot, but I still recommend adding the peas and kale about 10 minutes before serving. If your crockpot or your soup pot doesn't seem big enough to accommodate all the vegetables I've listed above, you can make a smaller batch… just follow the instructions, and I promise you can't screw it up.