Crisper's Honey Lime Dressing {Copycat Recipe}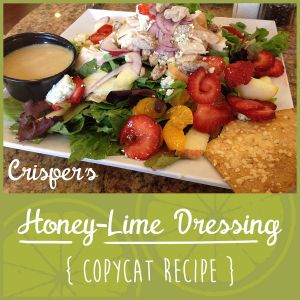 I've been a huge Crisper's fan since my first visit to one in the late '90s.  I went to college in Lakeland, which is the birthplace of Publix and home to multiple Crisper's restaurants.  I live in Gainesville now and thankfully, there is a Crisper's here!  However, it's very far away from the office I work in out in Newberry.  I try to eat a lot of salads, but I've grown bored of the limited lunch choices in "The Berry."
I came across this copycat recipe of Crisper's Honey Lime Dressing, which is my absolute favorite!!  (I normally order the Summer Salad or the Citrus Chicken Wrap with their Honey Lime Dressing and it's completely amaze-balls. Pair it with Crisper's Tomato Basil soup and it will blow your mind.)  I'm going to try this recipe very soon, so I can start making my own salads and wraps.
Recipe:
2 tablespoons Dijon Mustard (preferably course ground)
2 tablespoons Honey
2 tablespoons Rice Wine Vinegar
1 tablespoon Key Lime or Regular Lime Juice
1/4 teaspoon Salt
2 tablespoons Vegetable Oil (preferably soybean if available)
Combine all of the ingredients except the oil in a blender or food processor and blend well at a high speed.  With the motor running, slowly add the oil to the mixture until combined.  Chill the dressing for at least 2 hours to marry the flavors.
Makes 1/2 cup dressing; about 4 servings.
Nutrition Facts
Serving Size 2 Tbsp
Servings Per Container 4
---
Amount Per Serving
Calories 95
Calories from Fat 63
% Daily Value*
---
*Percent Daily Values are based on a 2,000 calorie diet. Your daily values may be higher or lower depending on your calorie needs.