Confessions of a Teacher's Kid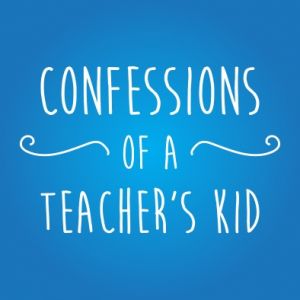 Both of my parents were teachers. My dad is a retired elementary school P.E. teacher. My mom taught kindergarten for many years before becoming a middle school guidance counselor, which she loves.
When I was a little kid my mom worked at my grandfather's office. He owned a title company and almost every member of our family worked there at some point in time. My mom decided that she wanted to become a school teacher because that would mean she would have the same vacation time that we had. I think she started going to night school when I was in kindergarten or 1st grade. By the time I was in 3rd grade she had finished earning her degree and she was teaching 2nd grade.
My sister and I were able to bounce back and forth between our parents' schools, spending one year with one and the next year with the other. My mom changed schools after she'd been teaching for a few years, so we ended up going to every school in town.
Each school had it's own slew of teachers' kids. We spent a lot of time in the classroom helping or lounging and counting the minutes until we could go home. I knew my parents didn't make much money teaching, but I saw the effort and the time that went into it.
One day I decided that I would never be a teacher. It was too much time and effort for so little income. Plus, having kids crawl all over you all day seemed exhausting and over-stimulating to me. I love my own kids, but other people's kids… ehh. Teaching was not my calling, that's for sure.
But here I am, 20 something years later, with a family of my own. It's July right now and next week my kids will be going to Sanibel with my mom and my sister to spend a week at the beach while I'm stuck in an office from 8am-5pm, Monday through Friday. My mom's reason for becoming a teacher was so she would have the same schedule that my sister and I had… free afternoons, weekends, and summers. I'm realizing now that it's not a bad gig.
I've always had a lot of respect for teachers, and even more so now that I have my own children. They spend their days teaching and nurturing my offspring day in and day out, plus a whole herd of other people's children… That's a huge job!
I love what I do, but doing it costs me time away from my kids. They're tired of going to after school programs and summer camps, and it was only a little over a year ago that I started working outside of the home. I used to be a freelancer, which had it's challenges working with kids at home… but the flexibility was nice. There are definitely perks to both sides, but the time away from my kids is what feels like a big sacrifice right now.
I was thinking about possibly going back to school for a masters degree so I could teach graphic design or art, but I've heard so many people complain about how much grad school costs and if you're not doing it to get into a high paying job then it's not worth drowning yourself in student loans. We already have seemingly insurmountable debt from putting my husband through grad school, and the thought of going through that again seems ludicrous.
Maybe one day I'll revisit the idea of becoming a teacher on some level. For now I'll eat crow and admit that teaching has some priceless perks called S & S.