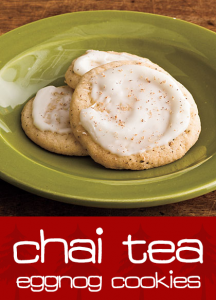 If you're looking for a different holiday cookie to try this Christmas, I highly recommend these! It's holiday goodness with a grown-up taste that's to die for.
Recipe:
1 tea bag of chai tea
1 package of sugar cookie mix (17.5 oz)
1/2 cup of butter, melted
1 egg
4 T of eggnog (do not use canned)
cinnamon-sugar
1 cup of powdered sugar
1/2 tsp of freshly grated nutmeg
➸ Heat your oven to 350 degrees F. Line cookie sheets with parchment paper. Empty the contents of the tea bag into a large mixing bowl (you can throw away the tea bag part).
➸ Mix together: tea leaves, cookie mix, butter, egg, and 2 tablespoons of the eggnog until well blended.
➸ Place 2 inch balls of dough on your cookie sheets, and flatten slightly with the bottom of a glass dipped in cinnamon-sugar.
➸ Bake 8 – 10 minutes or until lightly browned. Cool 1 minute and the transfer the cookies to cooling racks. Allow them to cool completely (about 30 minutes).
➸ In a small bowl, mix powdered sugar, nutmeg, and remaining 2 tablespoons of eggnog until smooth. Spoon glaze over the cooled cookies and let them stand until the glaze sets.
Nutrition Facts
Serving Size 1 cookie
Servings Per Container
---
Amount Per Serving
Calories 150
Calories from Fat 54
% Daily Value*
Total Carbohydrate 23g
8%
---
*Percent Daily Values are based on a 2,000 calorie diet. Your daily values may be higher or lower depending on your calorie needs.