Can Fat People Kayak? Heck Yes!!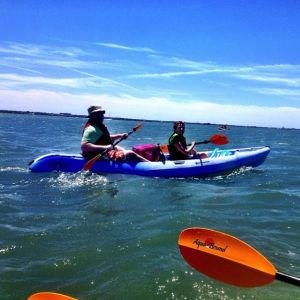 When my husband asked if I wanted to go kayaking my answer was an immediate 'YES' followed by some hesitation. I absolutely wanted to go, it's something that I've always wanted to try. The only thing that's kept me from trying it is the fact that I'm overweight.
A couple of years ago we went on a float down a local river with some friends. I was on a raft and had my 2 kids in an inflatable boat. My friend, Amy, had a shiny new red kayak that she'd recently bought because she wanted something lightweight enough that she could get it down to the river by herself. She looked so happy and free in her little red kayak. I'd never thought about kayaking until that day, but there was something about the freedom of paddling where you want to go that made me want to try it.
I found a similar kayak online and discovered that, as I'd suspected, there was a weight limit. That made me sad, so I didn't pursue it anymore beyond that.
So when my husband asked if I wanted to go, I immediately started Googling self-deprecating things like "do fat people kayak" and "fat lady kayaking." I found some really encouraging blog posts about people kayaking at 350 pounds and doing fine! But then I saw some videos on YouTube of fat people making kayaks sink just by sitting on them and trying to paddle out into the waves. That was probably the worst thing that I could watch just before trying it for the first time. I was super nervous about going already and that just made it so much worse.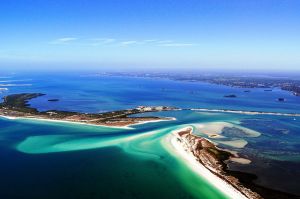 About a week later we drove down to Palm Harbor for my first kayaking adventure. We stayed with my cousin, Rhonda, who lives only about 5 minutes form the Dunedin Causeway. We rented 2 double kayaks from the rental place right there on the causeway and paddled out to Caladesi Island. I did not sink the kayak. I did not tip it over. I did not make a fool of myself!
My husband was in one kayak with our son, and I was in the other with our daughter… so overall our weight was pretty well distributed between the two kayaks. It was a little bit windy that day, so it was a hard paddle out to the island and there were lots of boats going by and leaving wakes for us to ride, but we made it out there with no major problems. The beach was beautiful and there were very few people out there compared to the crowded beach on Honeymoon Island.
At one point we heard ice cream truck music and it was coming from a boat that was apparently selling ice cream! We didn't think we'd need cash on an island, so we didn't buy any… but I thought it was hilarious that they were even out there.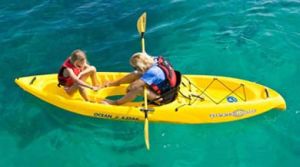 Anyway, if you're interested in kayaking, I highly recommend it! Even if you're overweight there are ways around that… you could paddle a 2-person kayak by yourself if necessary. I think that adults have to do that fairly often, so don't let the fear of embarrassment stop you. I wish I'd tried kayaking when I first had the idea a few years ago. I thought that would just be one more thing I could look forward to when I lose weight, but I need to not postpone life just because I'm overweight. I think if I focus more on having fun instead of food the weight will naturally drop off gradually.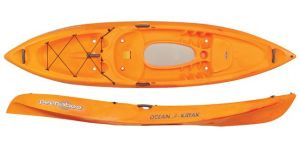 I'm now considering buying a kayak of my own and I'm seriously considering the Peekaboo by Ocean Kayak, which is a sit-on-top recreational kayak that's almost 12 feet long. It's unique because it's got a regular seat for an adult in the back and a smaller jump seat up front that could accommodate a child or a dog. What makes it super cool is that it has a window in the bottom, so you can see what's underneath you… kind of like your own glass bottom boat! It also has a high weight limit (400-450 pounds). I'll definitely be saving up for this one because it's awesome!
{ Some links in this post are affiliate links meaning, at no additional cost to you, I may get a commission if you make a purchase. Thanks for your support in this way! }
Life Vests in Larger Sizes (3XL to 6XL)
When we rented kayaks I found that I was able to fit into the life vests they had available, but I had to extend the straps as far as they would go so it wasn't super comfortable. If you're concerned about fitting into a rental life vest, there are lots of life vests for plus size people available on Amazon. And if you need it in a hurry… have I mentioned how much I love Amazon Prime's free 2-day shipping? 😀