Best Vera Bradley Bags for iPads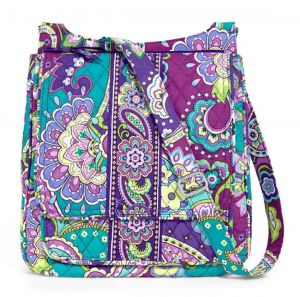 Something I've thought long and hard about is: What Vera Bradley bag is best for carrying an iPad? I know there are a lot of opinions about Vera Bradley out there, but personally I think they're fantastic. Bottom line… they're beautiful and washable – two extremely important qualities that I look for in a handbag.
I like to carry my iPad Air with me most of the time, just in case I get a few spare minutes to read or (who am I kidding?) play a game. When I bought my iPad I thought that the most important thing that I would need besides a case and a good screen protector would be a purse that it could not only fit in, but also offer protection from the inevitable. The best bag that I've found is the Vera Bradley Mailbag, which is an adjustable across-body bag. My favorite pattern right now is called "Heather" which is a gorgeous paisley combination of purples, teal, and lime green.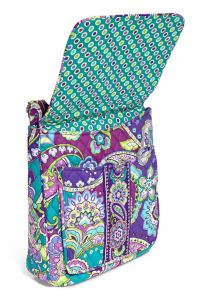 The Mailbag has a large magnetized flap on the front, which covers two slip pockets. The larger one is the perfect size for an iPad and with pockets in front and behind, it definitely provides the protection I was looking for. The smaller slip pocket is perfect for your phone and keys, but there's definitely room for more small items… lip gloss, doggy poop bags… whatever you need to carry.
The largest zippered section has two small slip pockets inside. This is normally where I keep my wallet, checkbooks, sunglasses, etc. Then on the back side of the bag there's a small zippered pocket for odds and ends.
{ Some links in this post are affiliate links meaning, at no additional cost to you, I may get a commission if you make a purchase. Thanks for your support in this way! }